Here's How We Can Work Together…
As a conversion copywriter and messaging consultant, I combine proven direct response techniques with a clear, contemporary writing style.
Whatever format your sales message is in – from website to email copy, landing pages to sales letters, ad campaigns to quiz funnels – its goal remains the same:
To clearly and persuasively position your product or service as the best only option available.
I work closely with a handful of clients who want to achieve that with my Selling Unique process. It's all about communicating your true, unique value to the right people.
The result is more success and growth, with far less effort and expense.
That's where most of my client work is focused these days, but I do occasionally take on other copywriting & consulting projects too. If you're looking for help with something specific, you can tell me about it using the form on this page.
What People Say About My Work
About my sales copy:
At LocalizeDirect we advise app developers to maximize their global reach by translating their products into multiple languages. Peter has been helping us improve this message across our site and we're very impressed with his ability to create compelling copy for our target audience.

The results?

4.4% conversions for both our 'StoreFront' registration page and requests for a demo of our enterprise level service…

And astonishingly, conversion rates actually DOUBLED for one lead-gen landing page."
– Christoffer Nilsson, CEO LocalizeDirect
Peter did a great job with our initial launch… for some affiliates it was converting at up to 4%.

For our own internal traffic we received EPCs well over $10, meaning we converted close to 20% from our list.

I like Pete's style of writing and would recommend him to anyone."
– Chad Hamzeh, Traffic BlackBook
About my email copy:
Peter was super helpful and responsive.

His emails have a conversational quality to them that make people feel like you're reaching out to them personally and get them highly engaged as a result."
– Avery Houser, Teespring
About my Deep Dive Survey customer research:
I got a lot of great lines to use in my copy which were very helpful in creating my sales page and email sequence. Pete was great about teaching me all about the process and made sure I knew exactly how to repeat the process on my own should I ever want to…

I'd definitely recommend Pete for anyone looking to increase knowledge of their target audience and increase conversions."
– Sarah Schewitz Psy.D., Couples Learn
About my copy optimization service:
I stumbled across Pete and read a couple of awesome reviews, so I decided to bite the bullet and shell out my hard-earned cash for a copy review.

I was skeptical at first… BOY WAS I WRONG!

Pete looked at my FB Ads and Landing Page and made what I thought were "small tweaks". Stuff I never would have picked up on. I launched the new funnel and my landing page now has been converting at a SOLID 69% over the past two months.

You read that right… conversions over doubled!

I've saved more than the price of admission from this massively improved conversion rate. A great investment.

And Pete is a great guy to work with. A total Pro. He delivers great quality on time.

If you are on the fence, jump off! You'll thank yourself once you see the results start to roll in."
 – Ryan Powell, MortgageMarketingInsider.com
After your copywriting work, we had a 25% conversion rate increase on PPC sales and 10% overall conversion rate increase from all channels for the course page.

Your guidance also helped us to better communicate to students how our monthly plan works, and reduced confusion about that process.

Our conversion rates increased significantly in a month!"
– Resit Gulec, Master of Project Academy
And about my Clarity Session consultation calls:
Pete was truly interested in my business and made excellent suggestions I was able to implement straight away.

I can absolutely recommend Pete to any business owners interested in improving their message to potential customers."
– Martin Sumetzberger, Next Level Sales NZ
A-list copywriter & marketer Kevin Rogers adds:
Peter Michaels is a copywriter I gleefully recommend to business owners who need a true expert.

He's plugged into the most proven methods and he goes deep with his clients to get results. That means with Pete you're getting a writer with a 360-degree view of your campaign.

If you're committed to working with a writer who only settles for positive results, you can't do much better than Pete."

– Kevin Rogers, Founder and CEO of Copy Chief
One more thing: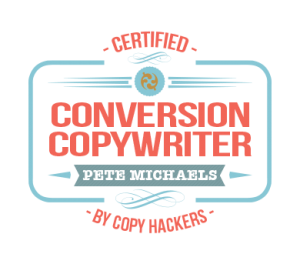 There's a whole lotta folks talking about 'conversion copywriting' online these days.
But not many of them are personally endorsed by the expert who coined that very term…
In 2014 I received certification from Joanna Wiebe of CopyHackers as a recommended Conversion Copywriter.
Here's Joanna on the value of hiring a CopyHackers-certified pro:
To become a Copy Hackers Certified Conversion Copywriter, copywriters pass a rigorous exam, including multiple written assignments graded personally by Joanna Wiebe, founder of Copy Hackers and the original conversion copywriter, and Lance Jones, expert CRO.

The ultimate measure of a certified conversion copywriter is whether we answered 'yes' to this question: Would we hire them to write for us?"
Need an expert conversion copywriter & consultant to help your biz Sell Unique?
If you'd like my help with your project, just complete the request form below and I'll get back to you inside 48 hours.
I'm currently accepting new clients, but only take on a limited number of projects at a time and regularly get booked-up weeks or even months in advance…
So if you have an exciting product or service and need help communicating your true, unique value to your ideal customers, get in touch using the form below today.
(If it turns out we're not a good fit, I may be able to put you in touch with someone who is.)
IMPORTANT: While I do consider and respond to each request I receive, I'm unable to work with everyone who contacts me. Please understand that if your budget for new messaging is below $1,000 it's unlikely I'll be able to help with your project.