Here's How To Get Me On Your Project…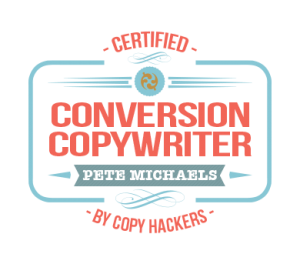 As a conversion copywriter, I combine traditional direct response copywriting techniques with a contemporary, startup-friendly style.
Conversions are crucial to all businesses and marketers. Sales, sign-ups, user engagement… if you want your visitors to take action, I can help.
If you'd like to work with me on a project, fill out the contact form at the end of this page and I'll get back to you about availability/suitability.
Here's what else you should know:
In 2014 I received certification from Joanna Wiebe of CopyHackers as a recommended conversion copywriter.
Here's Joanna on the value of hiring a CopyHackers-certified pro:
To become a Copy Hackers Certified Conversion Copywriter, copywriters pass a rigorous exam, including multiple written assignments graded personally by Joanna Wiebe, founder of Copy Hackers and the original conversion copywriter, and Lance Jones, expert CRO.

The ultimate measure of a certified conversion copywriter is whether we answered 'yes' to this question: Would we hire them to write for us?"
If you're a startup, entrepreneur or running a growing business in the tech, entrepreneurial or self-development markets, hello! I love working with folks like you. You can read a little more about what I do and who I work with here.
Some of the services I can help you with:
landing pages & website copy
email campaigns
onboarding & free-to-paid conversion emails
quiz funnel copywriting & Deep Dive Survey consulting (what's this?)
squeeze pages/opt-in pages
sales letters & VSLs (video sales letters)
Need an expert conversion copywriter for your project?
Just

complete the contact form below

and I'll get back to you inside 24 hours…
I'm currently accepting new clients… but that isn't always the case. Running my own biz alongside client work means I can only take on a limited number of projects at a time.
So if you've got an exciting product or service and need copy that converts, get in touch using the form below today (you can email me at pete@rockandrollcopy.com if the form doesn't appear).
I regularly get booked-up several weeks in advance – so be sure to hit me up right away to avoid a long wait.
Ok, I'm looking forward to boosting your conversions!
IMPORTANT: While I do consider and respond to each request I receive, I'm unable to work with everyone who contacts me. Please understand that if your copy budget is below US $1,000 I may not be able to help with your project.