The glitz! The glamour! The snark!
It's that time of year again…
Across the globe, people are weighing in with passionate opinions about this year's Oscars.
For the next few days, gossip lovers and TwitTokFaceTubeGrammers will care deeply about who won, who didn't, who wore what, and who gave unknowingly-caught-on-camera side-eye to whom.
And next week?
Nobody will give a sh-iny statue.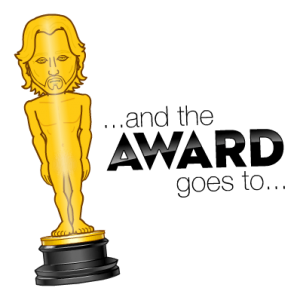 Same goes for the rest of the year. But then one night next spring, we'll get all worked up and do it again.
New controversies, new opinions and new side-eye will be upon us…
New, new, new. That's what people like, right?
New news, NOW. The present moment is all.
But 'news' has a shorter shelf-life than ever…
(Depending on when you found this post, you're probably struggling to remember who won an award this year already. "Anthony who?")
But as a solopreneur or service provider, you need people to care about your core message for longer than a post-Oscar-party hangover.
You don't want to be caught waving an award around after the conversation's moved on…
Sure, just as Hollywood sticks little golden men on its mantelpieces to impress the neighbours, we biz-owners can upload all manner of certificates, impressive industry acronyms & tenuous 'as featured in' logos to our websites in an attempt to woo prospective customers.
But once the warm glow of peer-praise starts to fade, and your market's attention wanders, you may yet come back down to earth with a bump.
As time passes, your audience can start to realise just how little that award actually means – to them, at least.
After all, awards are just, like, someone's opinion (man).
Know how many Academy Awards for Best Picture the 'Master of Suspense' himself, Alfred Hitchcock won?
Zero.
What about the legendary, era-defining Hollywood musical Singin' In The Rain?
Zilch.
It lost out in 1952 to The Greatest Show On Earth (an absolute stinker, by all accounts).
And perennially praised, evergreen favourites Citizen Kane, The Shawshank Redemption, It's A Wonderful Life, Goodfellas and Taxi Driver?
Not a Best Picture win between 'em.
And yet, people LOVE those movies…
They're still viewed, bought, streamed, bootlegged and broadcast to the delight of millions.
Because those films had personality.
Once seen, they stuck in your mind.
They had great stories you needed to see through to the end.
They said something about the human condition, about what it meant to be alive.
Nobody cares that they didn't win the big prize (though their directors may disagree)…
It didn't matter. They all found their audience, and their audience stuck with them.
If you're lucky enough to get recognition from someone in your industry, your very own star on the Walk Of Fame, it may lead to a sudden influx of new customers and clients.
Fabulous (darling)!
But that doesn't mean your sales messaging efforts end there…
The acclaim can disappear as fast as it arrived. There's always a third act still to come.
You can't dine out on old victories forever, drifting into irrelevance like the fading silent movie star in Sunset Boulevard…
You still need a clear and persuasive core message that connects with new customers and prospects, long after awards season is over.
The conversation will always move on. Just as there will always be new movies (even during a pandemic), there will always be new products or services in your market ready to steal your spotlight.
And if your messaging could use a sprinkling (or more) of stardust, here's how I can help.
Ok, I'll see you at Lady Gaga's afterparty…
---