Recently I was on holiday on the beautiful Croatian island of Hvar.
You're supposed to pronounce the 'H', like 'huh-var'. But really quickly, like it's one syllable instead of two.
It's kinda hard (h-vard?).
Even after a week I still couldn't get used to it.
Anyway, I'd totally recommend the place: sunny weather, clear water, friendly people, delicious food.
Good times. Mostly…
On our last day there, we rented a small boat to explore some of the surrounding islands and beaches.
Here I am happily captaining said craft, shortly before things went wrong.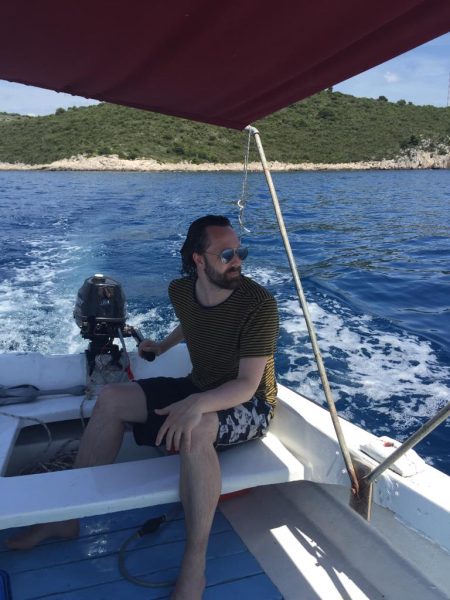 We spent a relaxing few hours piloting our little vessel around secluded bays and coves, dropping anchor now and then for a swim in the clear blue Adriatic.
It was bliss!
Then, at around 5pm the engine stopped working.
Uh-oh. Not so bliss.
What happened next reminded me of the importance of having a clear, unique core message…
First I should come clean about one of my most annoying personality traits:
I HATE asking for help.
I'm one of those stubborn blokes who will walk the extra miles in what feels like the right direction on a hunch, rather than ask a stranger for directions.
And I didn't see why I should make an exception for the ocean.
Pfft!
Basically the image in my mind of some dude from the boat rental company coming to rescue yet ANOTHER dumb land-lubber Englishman from the sea was too much for my pride to bear.
And even though I was hardly the saltiest of sea-dogs, with only a few hours of successful navigation behind me, there was no way I was gonna give up at the first sign of trouble and have someone else haul me and my ship shamefully back to port.
This wasn't exactly the movie Captain Phillips – the sea was calm, the sun was out and we weren't far from land.
Not a bloodthirsty pirate or boat-chomping shark in sight.
No need to panic… yet.
So for a good half an hour I kept trying to restart that f*&%£$£%g engine, yanking the motor cord and cursing up a storm.
No luck.
As we began to drift slowly further out to sea, the small island we'd been trying to reach got smaller – slowly at first, then faster.
Before we knew it, we were too far out for the anchor to reach the seabed.
Hmm.
Despite our beautiful surroundings, we realised things were starting to look a little hairy…
And given the increasing possibility of hanging up our swimsuits in Davy Jones' Locker that night, it wasn't long before my ship's one-woman crew mutinied against Captain Pete and decided it was time to make the dreaded phone call back to land.
Ok, I thought:
Since it's becoming a matter of life and death, I will bear the inevitable shame of my fellow sailors back on the island.
We made the call.
But there was a problem:
After answering the call and promising to send someone out (a real "Phew" moment), the boat company then texted me back with the surprising news that actually, I wasn't in one of THEIR boats at all (a real "Um…" moment).
Basically, they told me, I was somebody else's problem.
What.
The.
F**&%*$£%?
How could this be? I'd called the number on the website I'd used the day before to reserve the very boat we were floating helplessly away in.
A short and increasingly tetchy bit of phone-tennis ended with the grumpy operator sending me pictures of each of their small fleet of boats, to prove I wasn't in one.
(I know, right?
Just what you want when you're drifting out to sea with only your phone's battery to save you.)
It turned out later that more than one boat company use the number on the website – I'm still not quite sure how or why…
And so the folks who had helpfully taken our money and popped us into this busted bleedin' boat a few hours earlier were nowhere to be seen.
Eventually, someone who felt a bit more like helping avoid a nautical disaster passed my details on to a contact at the right company, and in a short while help arrived.
We were led back to shore, more annoyed than embarrassed.
After all, being rescued from drowning hadn't been on our holiday agenda.
Walking away from the harbour past all the different boat rental companies clustered around their pop-up stands, I realised something…
Not only did all the stands look the same, they were all called pretty much the same thing:
"Hvar Boats." "Boat Rentals Hvar." "Hvar Boat Rentals."
There wasn't a lot of unique differentiation going on here…
Passing tourists really had no idea what was different about Company A's offer vs Company B's.
Now, on an island where you've pretty much got a 'captive audience' of potential customers walking around your offer all day, you'll pick up some sales here and there, especially in season.
Get a good dockside location and a few half-decent pictures of boats that don't look like they have holes in 'em, and you're all set.
But to really stand out in a crowded market, you need to be clear about WHAT you offer, HOW it's unique, and WHY people should come to you rather than anyone else.
Differentiation is the key not just to winning more customers, but to keeping them happy after the sale.
People value your biz more when you have a clear offer that's distinct from 'the rest'.
If you make them feel like just another number in the books, their expectations will start low and stay low… unless you can demonstrate how you do things differently.
Customer care starts with how you present your offer, and continues through how you help them access and maintain your product/service.
Take the time to outline in your messaging exactly how you care for your customers and what they should do if they need your help after the sale.
Make it memorable and distinctive.
Long-term, it pays to be clear AND unique in your messaging, so nobody can confuse you for someone or something else.
And if a competitor almost drowns one or two of their customers, nobody can point the finger at you in error.
When it comes to your sales message, look at what those closest to you are doing… and do something different.
Rock the boat. It'll be worth it.
If you need help with that, I'm waving (not drowning) over here.
---