Ever hear of a guy called Charles Proteus Steinmetz?
The records show Steinmetz was a respected expert on alternating current systems theory (the 'AC' in AC/DC)…
His work for General Electric and beyond had an enormous impact on America's golden age of electrical engineering, and pretty much laid the foundations for the way we use electricity today.
So far, so science, right?
BUT…
He was also a cigar-smoking, canoe-paddling, ostrich-driving (see pic below) maths and electronics genius known as the 'Wizard of Schenectady', who kept a menagerie of lethal snakes and spiders in his home…
…and a self-styled 'Bohemian scientist' Ph.D. who went on to hold over 200 US patents – despite being born with dwarfism and arriving at Ellis Island in 1888 while on the lam from the German authorities.
Now, THAT bio tells me this guy was clearly A Dude of the Highest Order…
As this picture pretty much confirms: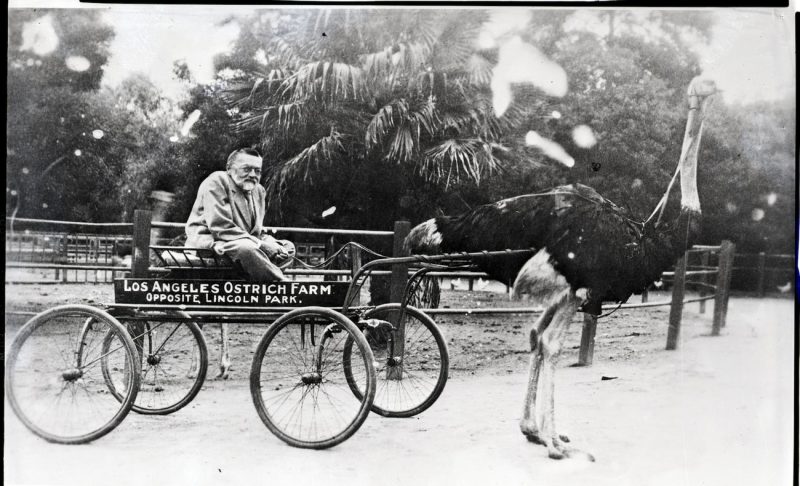 There's a great story about Charles Steinmetz…
It shows the power of owning and cultivating your biz's 'personal' brand, especially if you're a solopreneur or service provider:
Henry Ford (yep, that one) was having some trouble with a large generator at one of his car plants in Michigan.
His electrical engineers couldn't fix the problem, and production was stalled. So Ford called Steinmetz, whose reputation at this point was stellar.
When he showed up at Ford HQ, Steinmetz – who was less than 5ft tall and suffered from a hunched back and hip dysplasia – waved away offers of assistance, and asked only for three things:
A notebook, a pencil, and a bed so he could sleep in the generator room.
Steinmetz got to work…
He spent two days and nights listening to the generator and scribbling computations in his notebook.
On the second night, he asked for two more things:
A ladder, and a piece of chalk.
The Ford team watched as Steinmetz climbed the ladder and made a single chalk mark on the side of the giant generator.
The story goes, as he descended he told the skeptical engineers to remove a plate where he'd marked, and "replace 16 windings from the field coil".
(I'll be honest with ya, I don't even know what that means – but I'm no engineer.)
Anyway, the Ford fellas did as they were told… and the generator kicked back into action, and worked as good as new.
Steinmetz rode off into the sunset (possibly on his ostrich-cart, possibly not) and ol' Henry Ford was thrilled…
…until he opened a coffee-spluttering invoice for $10,000.
That was, at the time, an eye-watering sum even for an expert. So Ford requested an itemized bill.
Steinmetz responded with this breakdown:
Making chalk mark on generator – $1
Knowing where to make mark – $9,999
Ford paid the bill.
Here's the thing:
When you apply your unique combination of skills and experience to help your clients and customers, you go beyond adding up material costs and hourly rates.
Charles Steinmetz worked his ass off to get to the point where someone like Henry Ford would even know who he was, let alone call him in an emergency…
He'd earned the second line on that $10k invoice before he even took Ford's call.
Then, when a problem arose that he alone was perfectly positioned to solve, he did what he was ready to do…
And best of all:
Everyone got what they wanted.
Steinmetz – 'Wizard of Schenectady', 'Forger of Thunderbolts' – was a great example of Selling Unique in action, as his reputation and incomparable positioning paid off for him time and again.
Does your biz have unique value you want to better communicate to the people who most need your help?
If you do, it's time to drive your ostrich on over here.
Steinmetz-ostrich pic via Bettmann-Getty Images
---