Something a little different for you this week.
That is, if you'll allow me to indulge my inner uncle and veer ever-so-slightly off-topic…
As I cast my mind back a decade or two (or three) to take inspiration from a remarkable figure sadly taken from us earlier this week:
Andrew Weatherall.
If you haven't heard of Andrew before, here's what's up:
He was primarily a music producer and DJ – but more importantly, a kind of guiding spirit for a lot of people who shared his belief in the importance of art, culture, curiosity, collaboration and creativity.
You may know his production work on Primal Scream's influential Screamadelica album – the 1991 record that became a kind of entrance point for many music fans of my generation (told you I'd go a bit uncle) to explore styles outside the standard indie-rock 'guitar-bass-drums-vox' format.
(He once said his aim when working with someone else's music was "to retain the spirit but turn it into something else", which sounds to me like good advice for any collaborative or optimization process.)
Aside from his production and mixing work for a diverse range of artists – back in the 90's I bought a lot of 12" & cd singles with various remixes on, and 'the Weatherall mix' would always be the best mix – he was known as one of the finest and most progressive DJs around.
(Check out this top 10 for a decent intro, also this personal fave.)
In the wake of his surprise passing, many tributes have been paid.
And browsing some of the stories, anecdotes, memories and mixes being shared online, I realised something important I thought was worth sharing:
Andrew Weatherall was essentially a connector – he connected people with ideas.
(Yes, even on the dancefloor.)
If you're an entrepreneur or creative of any kind, this applies to you too…
Sometimes, your impact will reach far beyond the work you make…
It's also there in the way you connect people with other ideas, introducing them to things which inspire them to make something themselves, and in turn inspire others.
Because there's a spirit of adventure at the heart of what you do…
You're driven by curiosity, striving for change and impact – often against the odds, as you venture into the unknown.
So it can get tricky at times, confusing and disorienting, and the rewards might not always be obvious.
Collaborators may come and go, and won't always take you where you expect…
But you hold onto whatever it is that keeps you moving forward, and you push on, seeking the next key connection.
Because as a maker or marketer, you're also a CONNECTOR.
Your work can have a lasting impact and reach people you never expected it to, as long as you keep bashing away and remain open to inspiration from sources outside the obvious.
There WILL be times when you're tempted to give up, or when it feels like progress has stalled, or your well of inspiration has run dry.
Happens to us all at one point or another.
That's when it's worth recalling the motto (borrowed from a young trawler fisherman he once met) which Andrew Weatherall had tattooed on his arms:
"Fail We May, Sail We Must."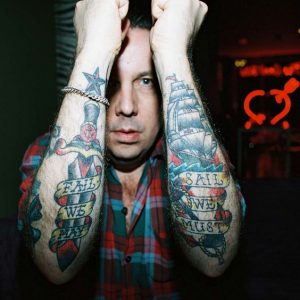 ---