There's this great Seinfeld episode called 'The Comeback'.
In it, heroic loser George Costanza has a bust-up with a work colleague, Reilly.
While George is stuffing himself with shrimp cocktail at a board meeting, Reilly jokes:
"Hey George, the ocean called: they're running out of shrimp!"
…which everyone (except George) finds hilarious.
George being George, it takes him the rest of the day to think of a suitable comeback…
Ditching his job for the afternoon to obsessively workshop possible options, he eventually lands on a decent response:
"Well, the Jerk Store called: they're running out of you!"
Trouble is, by the time George makes it back to the office, Reilly's in another meeting in a completely different state, and George has to fly out to Ohio with another bucket of shrimp to proudly deliver his line…
…which inevitably backfires.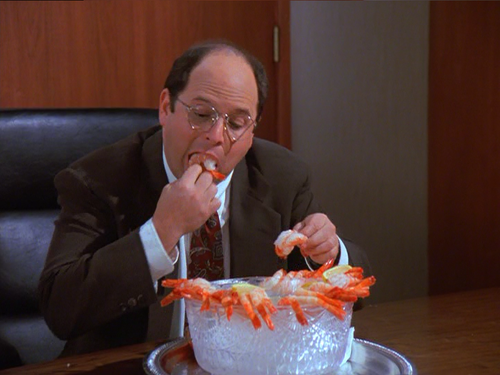 I was reminded of the frustrations of not having exactly the right line at just the right time recently, when I gave a presentation to a freelancer's group I'm part of.
Within moments of finishing my talk, I remembered something I should have said…
Five minutes later I'd realised it really didn't matter.
Seems no matter how much you prep your material and run through your notes, there's always something you forget:
Some priceless nugget of insight or one-liner that would have illuminated the room and brought everyone to their feet, shifted a million units or captured a thousand hearts…
But would it really?
Your sales message, for instance, is never really 'finished'…
It's an ongoing project of testing, feedback, iteration.
And it's never 'perfect', either…
In fact, the quest for perfection is a sure way to turn yourself into a frustrated, regretful rage-monster, much like George Costanza.
And, at the risk of coming across all 'Zen-Master Michaels'…
(I'm not, I'm far from it, but I do like how it makes me sound like a sort of enlightened, yoga-practicing Beastie Boy)
…I have started to appreciate the power of letting go – at least when it comes to getting exactly the right message across at exactly the right time.
After a few years in the copywriting game, I've seen how important it is not to dwell on 'shoulda, woulda, coulda…'
And instead to continually focus on optimizing what's already out there, in search of NEW connections…
New sales, new customers, new clients – whatever your conversion goal is, the messaging ahead of you is more important than what's behind.
If you're in business for the long haul, you know there's no point attempting an Ohio-bound u-turn like George Costanza after the perfect comeback hits him 5 hours too late…
If you're smart enough to recognise when your sales message needs some work, or when it's time to reach a new audience, you're smart enough to know how useless regrets are.
Optimize your message for those who need to hear it – not for your own peace of mind
It's admirable to want to communicate your unique value as best you can…
But perfection is almost always out of reach.
Every moment that's in front of you is a chance to help someone in a way only YOU can. That's what Selling Unique is about.
Every moment that's passed is just a half-eaten plate of boardroom shrimp, never to be relived.
With sales messaging, the goal is to gain insights, learn, optimize and express yourself…
2019 is almost upon us and I'd like to help you do all that while Auld Lang Syne(feld) is still ringing in our ears.
Head here if you're interested in improving your sales message while the new year's still new.
---