It was 6pm and my hands were bleeding.
I was doubled-over, panting for breath.
Every muscle in my arms and back screamed at me:
"Why the hell did you put us through that?"
The simple answer of course, was that old favourite:
"I needed the money."
But actually, by the time I'd finished lifting an entire pub onto a truck, I no longer cared about the money.
In fact, almost 20 years later, I can't even remember how much I got paid for the day's work.
It wasn't much, that's for sure. I was a student in my final year and I just needed some extra cash to pay for more drinks books.
So I'd accepted the challenge, along with my housemate Jon, to move an entire pub onto a giant haulage truck bound for the Netherlands.
I don't just mean the pub tables and chairs…
I mean the tables and chairs AND everything you'd find inside a traditional English pub – minus the booze and the bartender:
Fixtures & fittings, the bar itself, a raised wooden stage and its accompanying staircase, upon which Dutch folk singers and wedding bands were destined to climb in the not too distant future.
A friend working in the office of whatever company organised this sort of caper offered us the job:
A day's work in the company of four beefy blokes, each way more suited for the sort of lifting & shifting we'd signed up for. Paid in cash.
The task was simple but daunting:
Move the interior of a Sheffield pub onto the back of a truck without breaking anything, and the driver would handle the rest.
So at 9am we got to work: four hard-as-nails Yorkshiremen (is there any other kind?) and two pasty-faced university students (students of Film and Literature, no less).
I lifted, shifted, sweated and swore, my puny muscles taking a battering.
The biggest and loudest guy shouted directions and showed us the best order to get everything loaded.
At lunch we took a break, and – I'm not making this up – went to ANOTHER PUB for beers, crisps and pub sandwiches.
Not exactly the best fuel for exhausting manual labour (there may even have been cigarettes too, sorry Mum) but that's what the older guys were doing, so we did the same.
We headed back to work 'refreshed'.
More lifting, shifting, struggling and swearing.
Around 6pm we finally finished…
The pub was in the truck, the tarpaulin sides were strapped down and it was time to go.
The others headed off after a few gruff Yorkshire handshakes (is there any other kind?) – probably to do something very similar the next day.
Jon and I stood rubbing our aching limbs and beamed at each other. We were out on our feet, but we'd done it.
I'll never forget that feeling of triumph…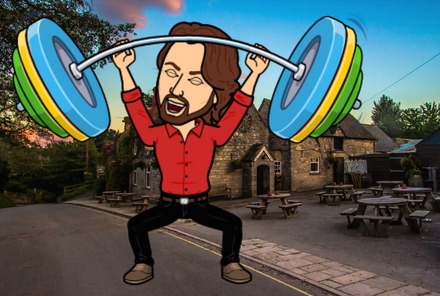 The sheer satisfaction of busting our proverbials to achieve our mighty yet mundane goal.
I got home to my student digs still grinning madly, sore but happy, and collapsed onto my bed.
I spent the next 24 hours there with the sort of feverish man-flu that only affects Film & Literature students who've just done a day's manual labour.
I've never felt so exhausted in my life…
It was the hardest day's work I've ever done (still is).
But here's the thing:
That day of intense pub-lifting, furniture-wrangling and grunty-noise-making taught me a thing or two.
I learned stuff that would help me run my solo biz years later.
I learned about resilience…
That, even in the face of a daunting and unfamiliar challenge, I was capable of knuckling down and seeing it through.
At the beginning of my freelance career, that helped me when inexperience saw me agreeing to deals and deadlines that were 'less than ideal'.
(As I got less green, I also got better at recognising what was daunting-but-doable, and what was simply a ridiculous schedule usually arrived at by bad organisation.)
I learned about teamwork forged in the heat of the moment…
How, with a clearly-defined common goal, it's possible for strangers to quickly develop a process that works, and play to each other's strengths to get the job done.
That's a useful skill for anyone working with multiple clients or via agencies, who has to adapt to new conditions and teammates frequently.
I learned to recognise leadership in different situations…
When to shut up and respect the guy-or-gal who's done it all before, and when to employ your own unique skills without brushing people up the wrong way.
For many consultants, solopreneurs and digital marketers, that's a key part of 'Selling Unique' and landing better gigs…
And it starts with the ability to sell your services the right way, to the people who are most suited to working with you.
And I learned that two pints of Guinness and a packet of crisps is not a sensible lunch…
…especially when you're busting your hump all day.
Now it's your turn:
What's the hardest day's work you've ever done?
How did you feel after, and what did you learn about yourself?
How can you use that experience to make your own product or service more desirable to others?
Hit up the comments below!
And then, go talk about what you achieved and what you learned in your messaging, on your site and in your emails.
It'll help your ideal prospects recognise and appreciate your true, unique value.
---