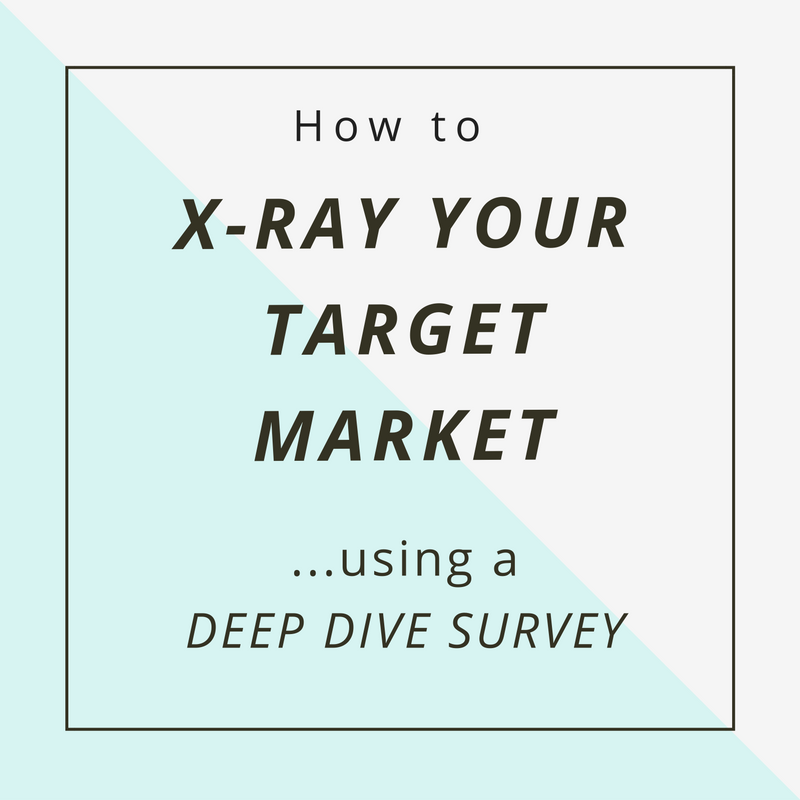 This is the final part in a trilogy of articles exploring the use of surveys to get closer to your target market, and uncovering valuable insights about them to improve your marketing.
You can catch up with part 1 and part 2 here.
So, we've established that using an audience survey – both for existing customers or prospects – is an effective way of:
Collecting 'voice of customer data' – the specific language your target market uses to talk about their problems…
Uncovering their hot buttons – what topics or themes create an emotional response in your audience, both good and bad…
Brainstorming and validating new ideas for products and services people really want…
Segmenting your audience so you can deliver customised content to them based on their responses…
These are all crucial advantages that will improve the potency of your marketing, and give you the edge over your competition.
Last time we looked at what not to do – the 7 survey killers you should avoid…
So now it's time to get into a few ways you can optimize your surveys for best results.
5 simple steps to an effective 'Deep Dive Survey'
You can use these 5 survey hacks to uncover a treasure trove of actionable insights like voice of customer data, hot buttons, audience segments and new product ideas…
1 – Decide on one single, key question you want everybody to respond to
If you could only ask one question of every person who ever encountered your brand, what would it be?
Think about what you'd need to know in order to best position your product or service for each prospect.
Remember that part of your goal with the survey process is to segment people based on their responses – so you can market to a handful of specific groups in different ways, focusing on their individual reasons for wanting your product.
And also be aware that not everybody who starts your survey will finish it – so place your key question early in the survey (first or second Q) to maximise responses.
Make answering this key Q – your 'Single Most Important Question' – required, so it can't be skipped.
That way even when people ditch your survey part-way through (it happens, surveys rarely convert at 100%), you still get a useful insight from every response.
2 – Use a 'softball' question to create momentum
To help people stay with you throughout the survey, try to give them some momentum right from the outset.
That means you shouldn't ask a complex or multiple-choice question at the beginning…
It risks giving the respondent the idea that the whole survey will be tough to complete, which can be off-putting.
So make your first or second Q an easy A/B option, where they can be completely clear on what their answer is.
Once they hit that submit button or click on the correct option, they'll see the quiz completion bar move nearer to the end, which encourages them to keep going.
But make this Q something that's useful to you too.
For instance, if it's helpful for you to know how your audience is split between male & female in a fitness market… or whether they're full-time or part-time entrepreneurs in a business market.
Choose something that will give you insightful data but that's also easily answered almost as a reflex, without the respondent having to really 'think'.
This also sets them up before – or gives them reassurance after – they tackle your Single Most Important Question.
3 – Make sure your survey emails get opened
For most marketers, the best way to get people to take your survey is to email it to your subscriber list.
And so before your survey is seen by anyone, you need to get that email opened.
Email open rates can vary greatly from niche to niche, so if you want to split-test a subject line that's relevant to your particular market alongside a 'safe option', try using the 'ask a favour' approach:
"Can you help me with this?"
or
"Can I get your advice on this?"
Both classic subject lines that work well in almost all markets – they're personal, don't imply 'selling', and appeal to people's desire to help.
We all like to feel our opinions are valued, and if you have a good relationship or high engagement level with your list, these should work really well.
You can also tweak the email sub to include subscriber first names if you have that information.
Just remember to explain why this process will help you in the email copy that follows (and always be honest!)
4 – Don't call it a survey
It's weird, people actually do enjoy filling out surveys…
…but only when they're not called 'surveys'.
Completing a 'survey' sounds like work to most of us.
However, answering a short 'quiz' sounds like fun (unless you're prone to high-school exam fail flashbacks).
Buzzfeed have had great success in recent years with their quiz content…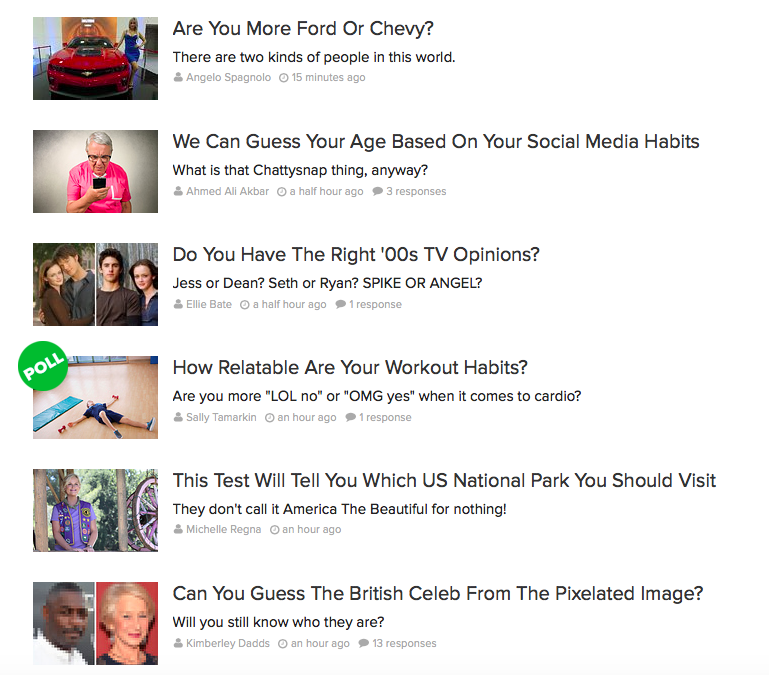 People love to give their opinions and will respond more often to a quiz – or simply being asked to answer "a couple of quick questions" (as long as your survey's short).
So tread carefully when using the word 'survey' – market research, clipboards, being stopped in the street… ugh!
…vs a 'quiz' – upbeat, fun, time-wasting… I'm in!
5 – Use your responses to develop targeted content
When your results start coming through, don't rush to conclusions right away.
Let the responses build up before you start going through the data – aim for at least 100 responses before you start analysing them.
When you do export your results, be patient and start looking for patterns in the answers…
What are people saying that separates them from other groups, and allows you to sort your audience into segments?
Look for ways you might be able to target these groups with content you now know they'll respond to.
What have they told you about their problems, hopes and desires?
What are the hot buttons you've uncovered that you can talk about and demonstrate your understanding of your reader?
Try to identify one key trait that binds each group together – find out what their kryptonite is, and figure out how you can help them with it.
Use this knowledge (it's more than just 'data') to draw a clear connection between their problem and your product/service…
Then make that connection explicit in the next piece of content you show them, re-using some of the actual language and phrases you found in your survey responses.
Because the more empathetic and detailed your message is, the more likely it is to resonate with your target market.
Ok, now you're all set to x-ray your target market…
If you follow the steps in these survey articles, you can email your customers or subscriber list, or add a visitor survey to your site right away.
Surveying your audience effectively – and avoiding the most common mistakes other businesses make with surveys – is a powerful tactic any biz can use to tap into their audience's psyche and create more targeted marketing.
But if you're serious about getting the most valuable insights from your audience, there's now a way to supercharge your results…
How I can help you get even better survey results and 'read the minds' of your prospects…
I've spent the past couple of years getting deep into this survey stuff for my clients…
In 2016 I joined Ryan Levesque's Ask Method® Masterclass to get a better understanding of surveys in marketing…
(I even 're-upped' and joined the 2017 version too, just to grab the extra added insights! #SurveyNerd)
I've analysed live workshops and case studies, shared tactics and principles with fellow copywriters, consultants & marketers, and implemented my takeaways for clients and partners.
What I've discovered has blown me away…
Deep Dive Surveys have proved hugely effective for large and small online businesses alike.
I've experienced first-hand how they can be used not just for uncovering crucial insights into any particular niche or market…
…but also as part of a finely-tuned marketing funnel capable of flooding your business with leads and sales.
It's now possible to move people from answering a few simple questions…
…to becoming happy customers and raving fans who buy from you again and again
That's why I offer a survey consulting service you can use to start uncovering insights from your customers and prospects right away.
Let's work together and create YOUR Deep Dive Survey…
The Deep Dive Survey is based on a key component of The Ask Method® as created and taught by master marketer Ryan Levesque and his team.
It's something they've used to grow million-dollar-plus businesses across a whole host of markets.
Having studied this process in The Ask Method® Masterclass, I now offer done-for-you Deep Dive Surveys to my clients (using the same software the Ask team use to create their own surveys and sales funnels).
So if you're interested in working with me to create, implement and analyse your own Deep Dive Survey that delivers all the insights I outlined above:
Exposing the exact language your target market uses, and swiping it for more effective sales copy…
Uncovering their hot buttons – the things they respond emotionally to, so you know exactly what to address in your marketing…
Brainstorming and validating new ideas for products and services people really want, without wasting another cent on what they don't…
And segmenting your audience so you can deliver customised content to them based on their responses, and convert more customers…
…then now's the time to act.
Because now you can have me personally create your own Deep Dive Survey and uncover what really makes YOUR target audience buy.
Who is this for?
Whether your business is already making millions or you're looking to validate an idea for a new product or service, a Deep Dive Survey can be a crucial part of anyone's marketing toolset.
And the good news is:
You don't need hundreds of existing customers, or thousands of daily hits to your site…
BUT the Deep Dive Survey is likely to be most effective if you already have an email list of 500+ names – and the more responsive your list, the better.
However, it can work in any market…
Whether you're selling $10 ebooks or $1,000 conferences…
Whether you're a business coach or a dog trainer…
You can be operating in any particular niche – you just need to be interested in discovering more about what makes your audience tick.
(And what self-respecting marketer doesn't want that?)
How do I get in?
You can work with me personally to create your own Deep Dive Survey by applying here.
I take on a maximum of 2 DDS clients each month, by application only – so if you want to work with me, fill out the form on that page and I'll be in touch.
If we're a good fit, I'll book you in for the next available spot. We'll meet on Zoom for an initial consultation, and then I'll get to work…
We should be able to get your survey up and running inside a few days – and once you've received a pre-agreed number of responses we'll schedule our Deep Dive Analysis session and start digging into the survey responses for messaging gold.
That's when I'll help you analyse your results, and we'll implement what we uncover into more targeted, more personalised copy and content ideas.
So don't worry if you've never analysed survey results before – I've got that covered, and the survey software we'll use makes it super easy to arrange and export responses – so you'll have all the data and insights at your fingertips, even after our project ends.
And if it takes a while to hit your response target, no problem. We can do the analysis in the following weeks while responses come through.
At the end of this process, you'll have:
– A full Deep Dive Survey and analysis you can use to x-ray your prospects and customers (I use a custom-built survey software for the survey & analysis, included in my service – so there's NOTHING extra for you to set up except an email with a survey link, and no additional costs)
– Valuable 'Voice of Customer' data you can use to better communicate with your audience: real-world language right from your target market's mouths (plus a time-saving process for assessing which respondents to focus on)
– Ideas for new products and services that are already 'pre-validated' – you'll know there's a market for them because your target audience will have helped identify them
– Inspiration for customised content to attract more of your ideal clients & customers, and to use as 'authority content' to build your reputation in your niche
– The crucial first component for setting up an (optional) future quiz-based sales funnel – and a 'quick-start' guide for growing your survey into a lead-generating process, whatever market you're operating in
Here's what one delighted DDS client had to say: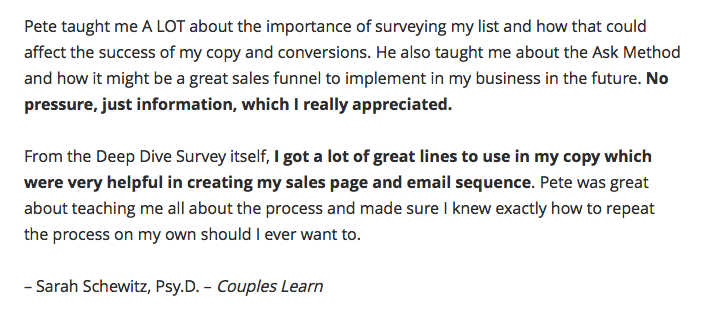 So, are you ready to take a Deep Dive and get serious about x-raying your target market?
Head over to this page for all the details, and your chance to work with me personally.
---