Here's a couple of quotes that illustrate the importance of developing TRUST with your ideal clients and customers…
Yep, it's the third part of our focus on your business' KLT – Know, Like & Trust – factor (catch up with parts one and two if you missed 'em).
One quote comes courtesy of 19th century German philosopher Beyoncé Knowles, and the other is from booty-shakin' pop diva Friedrich Nietzsche (wait, is that right?)…
Anyway, in the epic video for her Lady Gaga collaboration 'Telephone', Queen Bey says:
Trust is like a mirror, you can fix it if it's broken…"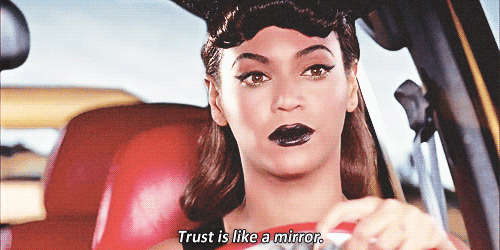 To which Gaga responds:
…but you can still see the crack in that mucky-funster's reflection."
(okay so LG didn't actually say "mucky-funster" but y'know, this is a family show…)
Meaning once you break someone's trust, you face an uphill struggle to get it back.
Meanwhile, ol' Freddy Nietzsche had a similar way of seeing things:
I'm not upset that you lied to me, I'm upset that from now on I can't believe you."
Ouch.
All of which pop-philosophising can be summed up thusly:
Trust is paramount, and you shouldn't break it.
Without trust, there's no KLT. And without KLT, there's no chance of Selling Unique.
Your ideal prospects are relying on you to live up to their expectations before they hand over their hard-earned's.
So how can your business' messaging earn that trust in the first place?
Is it even possible to demonstrate trustworthiness online any more, in an age of 'fake news', social media shadiness, and more snake oil sold than during Mr Slippery's Snake Oil Emporium's Black Friday Deep Discount Everything-Must-Go Closing Down Sale? (sadly, not a real event)
Fortunately, the answer is YES.
Let's take a peek at why, in the final part of our trilogy of KLT-focused deep dives…
"Trust me, I know what I'm doing…"
When it comes to sales messaging, earning your audience's trust is about 'show, don't tell'.
That means whenever possible, you need to demonstrate your trustworthiness…
Anyone with two thumbs and a keyboard can make all sorts of claims online now, so you gotta work a little harder if you want to earn the trust of your ideal clients & customers. Here's a few ways to do that…
Show off (but in the right way)
Yep, being a show-off can make you more trustworthy – IF you do it right.
Testimonials are of course key here, but you need 'em to be specific, not just all "Hallelujah this is the greatest thing I ever bought". Your prospects need to know HOW, exactly, their lives will be changed.
So spotlight the testimonials that specifically address key issues you know your ideal prospect also has…
…even if that means the overly-detailed customer quotes that probably won't make a lick of sense to someone who's never encountered that particular problem before.
So if somebody bought your product and had plenty to say about, say, the packaging or delivery process… or the customer care… or even the fact it didn't have the same fatal flaw as Competitor X's does (that fraud!), be sure to highlight those quotes.
These specifics – and in the words of others, they're more powerful – both demonstrate that you know your stuff AND that you're tuned-in to the very people you want to trust you.
Or, let's say you're a consultant and a client was initially skeptical about forking out to work with you (because you're not cheap!), but their testimonial mentioned how that initial reluctance was overcome, highlight that quote.
It demonstrates your empathy with people's reservations, but that you're confidently capable of overcoming them in your work (and will when given the chance).
Guarantee schmuarantee: go beyond the basics
With products both digital and physical, it's become the norm for many online businesses to offer a money-back guarantee of some kind. Which is only good n' fair.
But…
When something becomes the NORM, it also becomes more and more igNORMable (eh, that doesn't quite work but I kinda like it). Once everyone's doing it, it has less impact.
Which means slapping a standard 30/60/whatever-day guarantee on a sales page these days is barely more than fulfilling legal compliance – yes it's necessary, but it can no longer be considered a sexy selling point.
To really up the trust ante, you should talk about the reasons WHY your guarantee is different, and try to make it memorable…
Is it tied to specific results people can expect? Do you make the refund process 100% hassle-free somehow? Do you offer a creative alternative to a cash refund? And if you're a service provider and it isn't appropriate to offer refunds, what can you do differently to offset this?
Making this effort to stand up and be unique throughout your sales messaging actually builds trust because it helps people recognise you… the more you can do to NOT be another faceless online biz, the more you'll be remembered.
Wherever you show up, be consistent
Think about where someone might encounter your sales messaging online. Is it consistent across each platform? Is it clear that the same business is behind it, or are you using different 'voices'? Or even different ways to describe what you do?
Selling Unique is about building trust through repetition across ALL platforms you market on: your site, social media, dedicated sales funnels, email marketing etc.
And the chances are your prospects will be doing some digging around to see if what you say and how you behave in one place matches another.
Freak-out ye not, this is a good thing…
It's your chance to reinforce your message and strengthen your brand by showing up in different rooms.
As long as your core message is clear, consistent, and repeated in various places, it'll slip more smoothly into your prospect's consciousness and reassure them that you're a voice to be trusted.
Consider if you're appealing to different segments of your audience in different ways, or offering varied terms in different locations and on various platforms… or are you using multiple promotions at one time?
Depending on your offer, it may be necessary that your biz does this. That's ok, just be sure to stay consistent in the core message you communicate, so there can be no chance of people mistaking you for someone or something else.
Because confusion is a fast way to erode trust in a selling situation, especially online when you can't be there in person to clarify things.
Express your authority!
Woah there, sheriff – I'm not talking about getting all tooled-up and taking to the streets to frogmarch naysayers down to the slammer.
Nowadays, expressing authority online is about being visible and giving generously – yep, a far cry from the authoritarian tactics that may have worked in the past.
(That sound you can hear is John Wayne's spurs grating as he turns in his hippie-hating grave.)
Helping your ideal prospects to better understand their situation before they've even paid you creates respect, gratitude and eventually, trust.
You can do this by sharing your unique combination of skills, experience and personality through content that informs, educates or inspires.
Think for a moment of the content marketers who've earned your trust and respect over the years – you probably consider them an authority in their subject because you've seen them express themselves again and again about something you're both interested in.
Content that gives first and sells later is a slow, steady process that earns trust and demonstrates authority.
No, it doesn't happen overnight, but it does have long-term impact and separates the opportunists in a particular niche from the 'true believers'. Which do you think your ideal prospects trust more?
Stop pretending
It can be tempting to try to model everything you or your business do in marketing on what's been done before – but that can be very limiting.
Yes, it makes sense to look at the success of others and try to reverse-engineer what works, in an attempt to create a shorter route to your own money-bathing good times.
But be careful what (or who) you pretend to be…
The less 'you' that's on show, the less your prospect has to gauge your trust factor on.
If your messaging sounds like someone else's, the best you can hope for is that people trust you as much as they would the person or company you're modelling… and the worst case is they think you're an also-ran or an imposter.
Remember: you don't want to come across as 'another…', you want to be seen as 'the only…'.
Above all, be genuine:
USE your ideal prospect's own language alongside your own, and don't overdo the marketing speak (stock sales letter phrases like "works like gangbusters!" are out, unless you know your ideal customers actually talk like that in conversation).
DRAW ON your own experiences and use them to tell stories…
No, they don't all have to be groundbreaking or edge-of-your-seat thrillers, they just need to demonstrate that your business is made up of REAL people overcoming REAL challenges your audience can relate to.
DON'T BE AFRAID to say "I don't know" sometimes, if it's true. People respect honesty and a desire to learn more, a helluva lot more than they respect cover-ups, fudging and "alternative truths".
And after all, why would you not tell the truth when you're trying to build trust?
So there you have it:
Your Selling Unique mini-guide to building trust with the people who most want what you have.
Combined with our deep dives into Know and Like, these Trust-building tips for sales messaging should help you raise your marketing's KLT factor so you can truly 'sell unique'.
Speaking of which…
One more thing:
I'm currently applying the finishing touches on a new program to send your biz's KLT factor through the roof in 2020…
It's a way you can get my personal help to 'sell unique' across all your messaging, so it connects more deeply with your ideal clients & customers than ever, and your business finally represents the REAL you.
UPDATE: it's heeeeeeeeeeeeeeeeeeere…
---