The other day I got an email from Ryan Reynolds.
See, the medium-hot Canadian actor isn't just a movie star these days…
He's also a biz-owner like you and I – having recently bought his own gin brand, Aviation.
(That's Hollywood people for you. When I've had a good day, I might treat myself to a gin & tonic.
This guy treats himself to a gin company.)
But it's not Ryan's ownership of Aviation Gin that I'm writing about today…
(I'm just gonna call him 'Ryan' from now on, since he emailed me and all. Besides, 'Reynolds' makes me think of Burt, and there can only be one Burt.)
…it's his emails.
Specifically, the out-of-office emails he's been 'sending' from his Aviation Gin account recently.
They're fun, irreverent, original and even do a great job of selling the product too….
Turning the traditionally fun-free zone of the holiday autoresponder into an offbeat marketing tool.
Here's a sample:
Thank you for your email and interest in Aviation American Gin! I'm away from my desk at the moment but will respond the moment they give me a desk.

…If the matter is urgent, please contact my secretary, Bruce, who'll respond the moment I get a secretary named, Bruce."
Ha! Probably funnier than anything in Deadpool 2 (ouch! Too soon?)
Now, whether Ryan wrote these himself or not is up for debate…
Though it's quite possible he does, since he's known for being smarter and wittier than your regular movie star lummox.
But even if it's 'just' a copywriter doing the work (fun fact: copywriters are believed to be the only people in the world better-looking, on average, than Hollywood movie stars)…
It's still worth taking a peek at emails so popular they crashed Aviation's servers
Over 20,000 emails were sent to ryan(at)aviationgin.com within a day of Ryan's appearance on Tonight with Jimmy Fallon in the US, as viewers scrambled to get their very own automated out-of-office response from ok-looking actor Ryan 'Bryan' Reynolds.
That's 20k people in just one day who asked a company to send them a marketing message, despite knowing they would NOT even be able to get through to the person they were writing to.
Pretty cool stuff.
So here's some Selling Unique gin-spiration (oh yes I did) we can swipe from Aviation's 'guerilla marketing' moment:
Curiosity is as compelling as ever
People may not have wanted to see Ryan Reynolds in 2011's box-office flop Green Lantern…
…but they DID want to see what would happen when they emailed the man himself while he was away from his desk.
Even though we've all gotten our fair share of forgettable out-of-office replies before, we can't resist scratching a "what's on the other side" itch.
So try tickling your target prospect's sense of excitement or intrigue around what they'll get when they contact you or opt-in to your list.
Stoke their curiosity and they'll raise their hand, fast. Especially for something unique…
Your 'hook' doesn't have to be super-valuable or exclusive – it doesn't even have to be a traditional 'lead magnet' or giveaway at all…
The important thing is to make it different to anyone else's, and attach a little mystery.
Folks aren't always looking to solve a life-threatening problem – sometimes we just want to know "what happens if I push this button..?"
Just make sure your hook or gimmick fits with how you want your brand to sound, and resonates specifically with your ideal customer.
(I can give you some great ideas for that when we hang out together.)
Creative doesn't have to = complicated
"Great marketing is simple," says Andrew T. Chrisomalis (don't forget the "T."), CEO of Aviation's parent company Davos Brands…
"The best marketing is also real and personal."
Aviation's email stunt relies on a simple autoresponder – no complex funnel setup required.
It just sets expectations that people will get a message they can look forward to…
That's easy when you know exactly how your prospects want to be talked to.
It's personal because the audience triggers the action themselves – and you can bet they're checking their inbox for Ryan's response too, product pitch and all.
Simple, affordable AND effective…
No need for Fancy Madison Avenue Agency high-jinks, or budget-blowing new funnel software you only use once.
Want your audience to remember you? Have some FUN
If, like for the thousands with whom these offbeat email antics resonated, you want your message to be distinctive and memorable…
Be prepared to leave 'normal' behind.
Selling Unique is about winning your target customer's attention, but also keeping and converting that attention with messaging that communicates YOUR voice and values.
Take Aviation Gin. Most advertising for luxury booze brands is predictable…
Whether visually or literally, it's always something like:
"Our great-tasting Ha-ha Juice will make you instantly more desirable and entertaining, as you sip it on a beach at sunset surrounded by your unfeasibly attractive and ever-laughing friends…"
Ryan and Aviation know this is 90-proof Advertising BS (the strongest BS around!) and they know YOU know that too – so they put an arm around you and share the joke.
You feel included, respected and entertained…
And you remember that feeling the next time you're jonesing for gin-sauce.
All because Aviation did something a little different to stand out.
Here's Ryan 'Not Gosling' Reynolds again, spoofing his public image in another email OOO:
My responsibilities here at the company are vast. I'll spend my days being photographed intermittently clinching my jaw muscles while pointing at things and nodding. I'll drink Aviation Gin."
One more thing:
Ryan's email copy not only got the attention of gin-swiggin' Joe Public, but also generated major interest from retailers and restaurants keen to stock up and cash in on the brand's momentum.
Ryan Reynolds: not just a (reasonably) pretty face.
Ok, that's about enough of Johnny Hollywood and his juniper juice…
It's time to get creative and distil your own unique messaging tonic that'll grab your ideal prospect's attention in a shot, and drive thirsty leads to your inbox.
Want help with that? Head over here.
(Or you can shoot me an email to pete@sellingunique.com. I'll get back to you personally, too – unlike some Canadian actors I could mention.)
Cheers!
PS – yes, I sent Ryan an email to see what would happen, and no, of course I didn't get even the briefest flush of star-struck excitement when I saw a reply from RYAN BLEEDIN' REYNOLDS in my inbox.
Anyway, here's what he had to say to me (daft subject line your correspondent's own):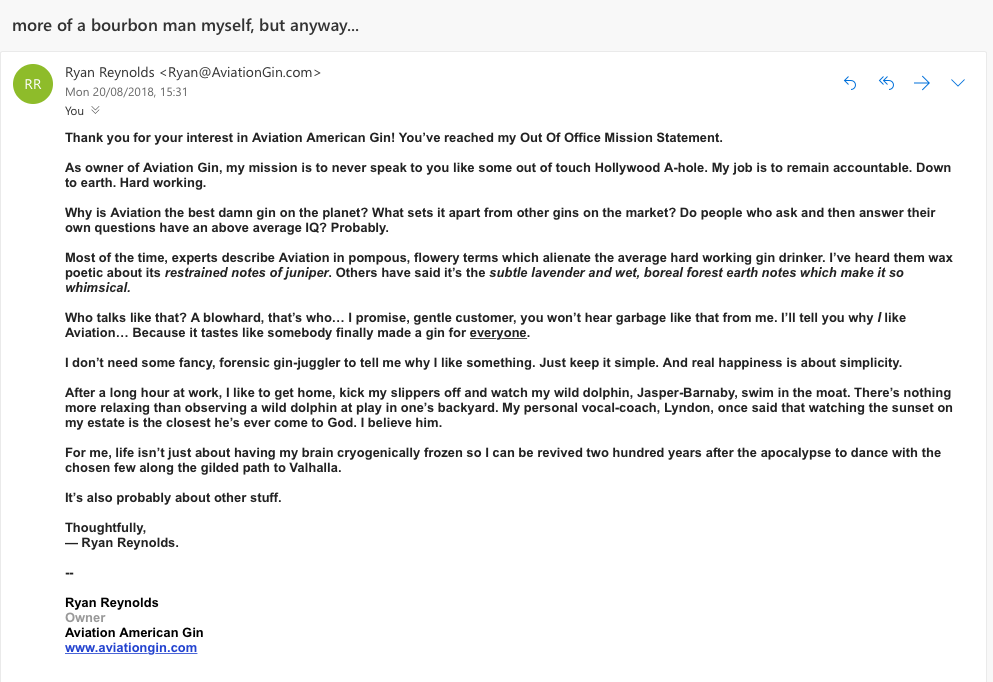 ---